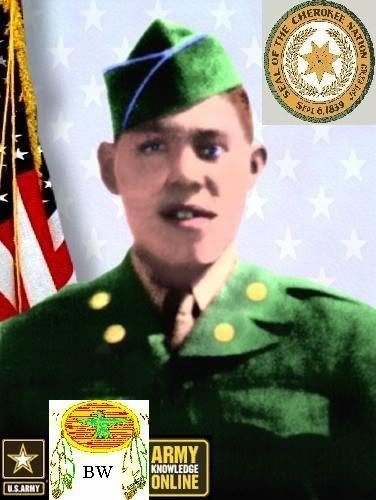 United States Army Private First Class Charles George

Rank and organization:, U.S. Army, Company C, 179th Infantry Regiment, 45th Infantry Division
Date and place of action: 30 November 1952, near Songnae-dong, Korea
Entered service at: Whittier, North Carolina
Place of birth: Cherokee, North Carolina

United States Army Private First Class Charles George
(1932-1952)
Warriors Citation
PFC George, a Cherokee warrior and member of Company C, distinguished himself by conspicuous gallantry and outstanding courage above and beyond the call of duty in action against the enemy on the night of 30 November 1952. He was a member of a raiding party committed to engage the enemy and capture a prisoner for interrogation. Forging up the rugged slope of the key terrain feature, the group was subjected to intense mortar and machine gun fire and suffered several casualties. Throughout the advance, he fought valiantly and, upon reaching the crest of the hill, leaped into the trenches and closed with the enemy in hand-to-hand combat. When friendly troops were ordered to move back upon completion of the assignment, he and 2 warriors remained to cover the withdrawal. While in the process of leaving the trenches a hostile soldier hurled a grenade into their midst.




PFC George shouted a warning to 1 comrade, pushed the other soldier out of danger, and, with full knowledge of the consequences, unhesitatingly threw himself upon the grenade, absorbing the full blast of the explosion. Although seriously wounded in this display of valor, he refrained from any outcry which would divulge the position of his companions. The 2 warriors evacuated him to the forward aid station and shortly thereafter he succumbed to his wound. PFC George's indomitable courage, consummate devotion to duty, and willing self-sacrifice reflect the highest credit upon himself and uphold the finest traditions of the military service. From: military records